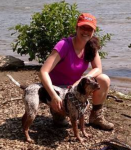 Excellent service and a joy to work with! I found Michele Sarullo while browsing properties online. I was potentially a difficult client as I was located overseas -while trying to identify and purchase a property stateside. She answered my initial inquiries immediately and got me started in earnest with a personalized feed of homes that I might like. Michele pays close attention to your preferences and I was thrilled at how quickly she narrowed down the large market to properties that were appropriate for my lifestyle and the amount that I wanted to spend. Michele really got to know me and quickly earned my complete trust. Her fast trip over to my desired property, and the multiple videos she shot, allowed me to have "eyes and ears" on the property in Tucson, all while living overseas. Her quick responses and savvy guidance at each step of the process ensured that my bid was timely and competitive. Michele is a great guide for a first-time buyer in the greater Tucson area. As a long-time resident, she provided in-depth information to ensure that my new neighborhood immediately felt like home. I can't say enough good things about Michele Sarullo. Highly recommend!
Michele was/is such a pleasure to work with! We will never use another realtor for our real estate needs. She had our house under contract in less than three days! You can tell she really enjoys what she does and she is very knowledgeable. We had a great experience and will definitely recommend her to others!
Michele had my property under contract within hours of listing it. She assisted me through every step of the process. I HIGHLY recommend her!